BetVisa Deposit Methods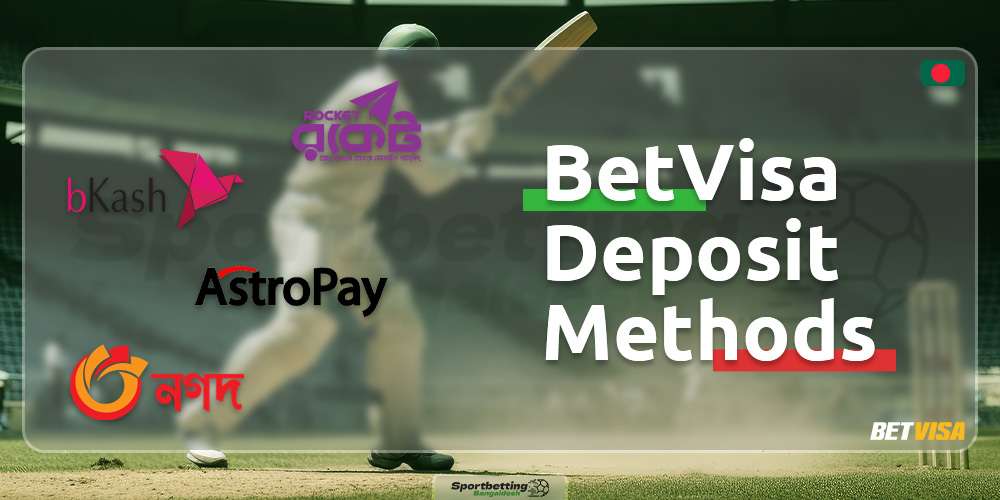 Depositing funds into your account is as easy as it gets. The platform offers a variety of methods, ensuring players in Bangladesh have access to smooth and secure transactions. This section delves into these options, shedding light on how each deposit method enhances your betting experience on BetVisa.
BKash. Pioneering Bangladesh's mobile financial service industry, BKash is an esteemed choice for Bangladeshi players. It's a highly convenient mobile banking platform that enables users to deposit money into their accounts swiftly and safely. Using BKash, players can execute transactions from their mobile devices anytime, bringing the bank's power into their hands.
Nagad. Nagad is an innovative mobile banking solution offering a seamless approach to depositing funds on BetVisa. Through this platform, financial transactions can be effortlessly executed with just a few clicks of a button. This minimizes waiting periods and accelerates your return to gameplay expediently.
AstroPay. AstroPay is a virtual-prepaid card that offers a unique deposit method. It is ideal for those who value privacy and security, allowing users to make deposits without revealing their banking details. This method is quick, efficient, and user-friendly, making it a favorite among many players.
Rocket. Rocket, an additional mobile banking service renowned for its user-friendly interface and swift transactions, offers a seamless and efficient mechanism to facilitate deposits into your account. With Rocket, you can effortlessly replenish your funds and promptly resume placing bets without any inconvenience or delays.
USDT. Tether is a cryptocurrency variant that closely associates with conventional fiat currencies, such as the U.S. dollar. It is a novel and technologically advanced way to fund your BetVisa account, particularly appealing to knowledgeable individuals proficient in digital currencies.
BetVisa ensures all players can easily bet with its wide range of deposit options. No matter your choice, you can count on BetVisa to make your transactions smooth, secure, and efficient.
How to Deposit Funds in BetVisa?
Taking the first steps into the world of BetVisa? One of the key steps you need to understand is how to deposit funds into your account. The process is simple and user-friendly, even for beginners. This guide will walk you through the steps you need to follow to deposit funds:
Step 1:
Begin by logging into your BetVisa account. If you haven't created an account, go through the registration process first.
Step 2:
Once logged in, navigate to the "Deposit" section on the site. It's usually located in your account dashboard.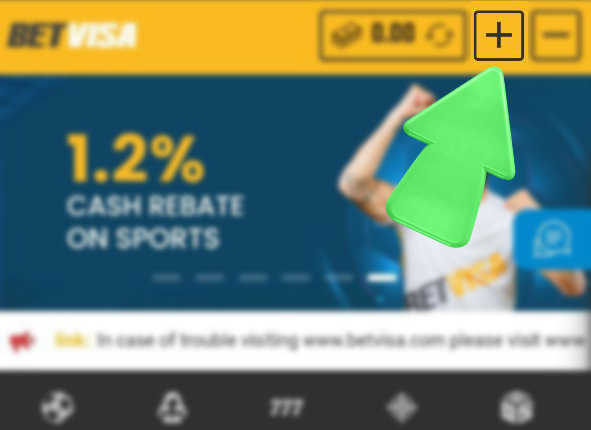 Step 3:
You'll see a list of available deposit methods. Select your preferred option. For instance, you could choose BKash, Nagad, AstroPay, Rocket, or USDT.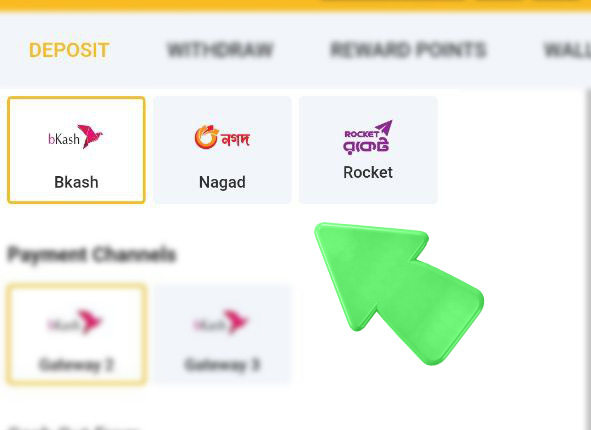 Step 4:
Input the amount you wish to deposit. Make sure it meets the minimum deposit requirements.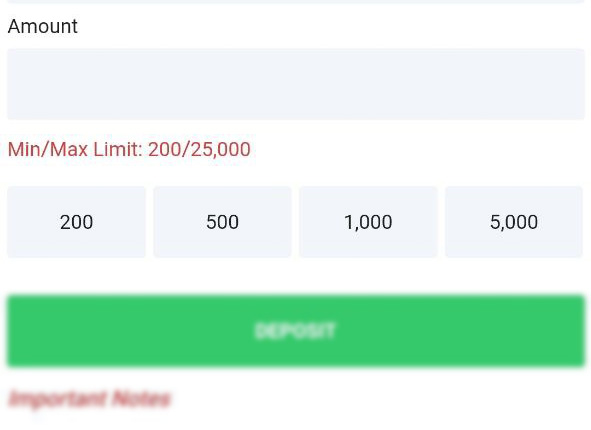 Step 5:
Click the "Deposit" button. Follow the prompts to complete the transaction. The steps might vary slightly based on your chosen method, but the site will guide you through the process. Your account should be credited with the deposit amount shortly.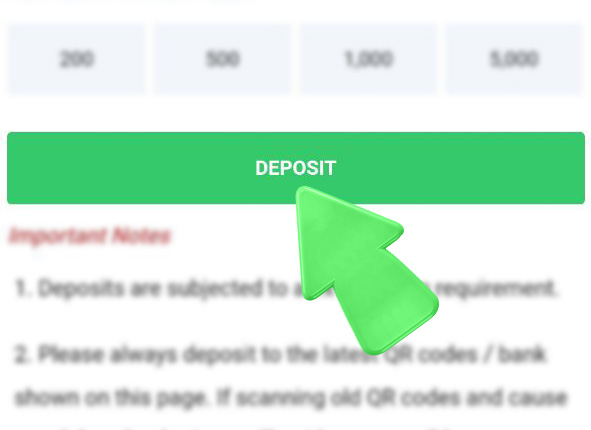 Making payments is a breeze with these simple steps. What's more, BetVisa's efficient customer support is ready to assist you if you encounter any challenges during the process. Remember to check the minimum deposit amounts for each method and ensure your deposit is within these limits. BetVisa's commitment to providing a seamless and convenient betting experience extends to its deposit process. Once you've deposited funds, you can dive into the betting action. Whether you're a sports enthusiast or a casino games fan, BetVisa has a wide range of options for you to enjoy.
Bonuses for Account Deposits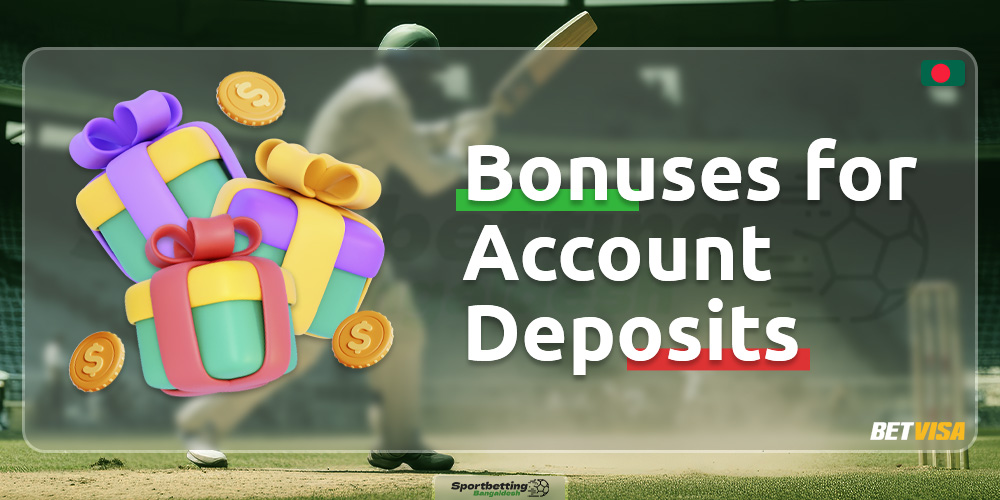 The venue offers a range of exciting bonuses for account deposits, providing players with added value and more opportunities to win big. Here are some of the enticing incentives you can enjoy when depositing funds:
Signup Free Cash 500 + 5 Spins. As a welcome offer, BetVisa rewards new sign-ups with Free ৳500 and Spin tickets for a chance to win an ৳8,888 prize. This bonus lets you kickstart your gaming journey with extra funds and exciting spin opportunities.
100% Welcome Bonus On Sports. This promo is perfect for you if you're a sports enthusiast. BetVisa offers a 100% Welcome Bonus on sports, allowing you to double your deposit up to ৳5,000.
12% Daily Reload Bonus On Sports. BetVisa provides a daily reload bonus of 12% for regular sports bettors. It allows you to boost your sports betting experience daily, with a maximum bonus of ৳3,000.
Deposit 500, Get Free 1,500. Top up your account with ৳500 and receive an extra ৳1,500 as a bonus. This generous offer provides additional funds to explore the exciting slots and fishing games on BetVisa.
Each promotion has specific terms and conditions, including turnover requirements and validity periods. Reading and understanding these details before claiming any bonuses to maximize your gaming experience is essential.
Minimum and Maximum Deposit Amount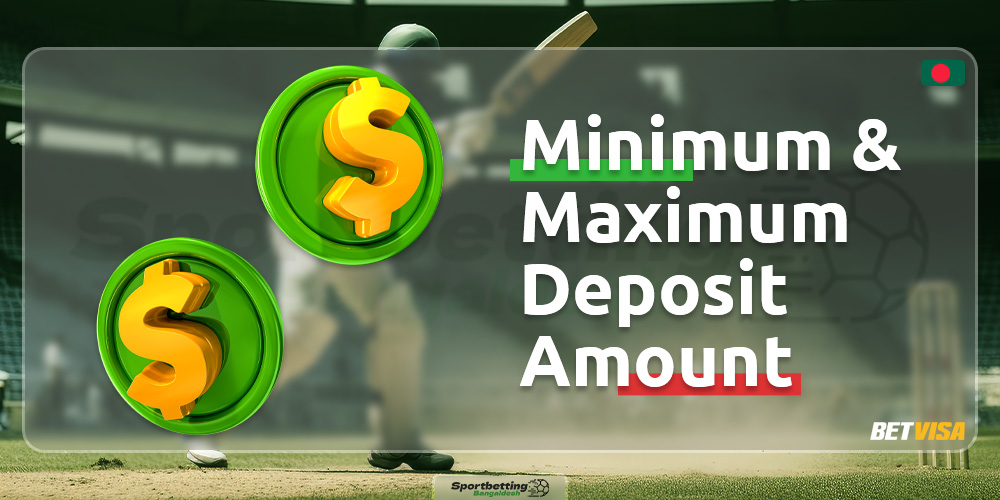 When making deposits, knowing the minimum and maximum limits for each deposit method is essential. This knowledge will guide your decisions and ensure a seamless transaction process. The following section provides detailed information about the deposit limits and processing times for each method available on BetVisa.
Here's a handy table for quick reference:
| Deposit Method | Minimum Deposit | Maximum Deposit |
| --- | --- | --- |
| BKash | 200 BDT | 25,000 BDT |
| Nagad | 200 BDT | 25,000 BDT |
| AstroPay | 500 BDT | 50,000 BDT |
| Rocket | 200 BDT | 25,000 BDT |
| USDT | 1,000 BDT | 500,000 BDT |
Whether you prefer to make smaller deposits or you're a high-roller, BetVisa has options to accommodate your style. The processing times vary depending on the deposit method. Some methods like AstroPay and USDT offer instant processing, allowing you to start playing immediately. Meanwhile, other methods like BKash, Nagad, and Rocket have a short waiting period but are still quite efficient.
BetVisa Withdrawal Methods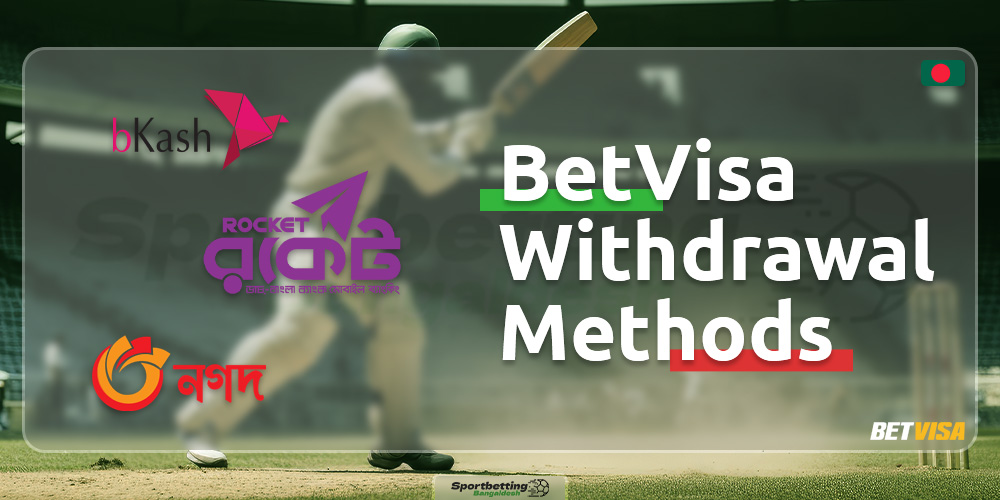 Withdrawals are as important as deposits in the world of online betting. Once you've reaped the rewards of your savvy betting, you'll want to know how to withdraw your winnings. BetVisa provides several straightforward and secure withdrawal methods, ensuring a smooth cash-out process for its users.
BKash. As for the withdrawal methods on BetVisa, BKash is one of the options available. This allows Bangladeshi players to transfer their winnings back to their mobile banking accounts conveniently.
Nagad. Another popular digital financial service in Bangladesh, Nagad, offers an easy way for BetVisa users to cash out their earnings. It is user-friendly and known for its reliable service.
Rocket. Renowned for its fast and secure transactions, Rocket provides BetVisa users an excellent withdrawal option. With Rocket, you can get your winnings directly to your account with minimal hassle.
These withdrawal methods have been selected to cater to the diverse needs of BetVisa's user base. Each method is easy to use, and BetVisa provides clear instructions to help users navigate the withdrawal process. Before proceeding, check each method's minimum and maximum withdrawal limits and processing times.
Whether withdrawing a small win or a significant jackpot, BetVisa ensures the process is smooth and convenient. After all, the joy of winning is best enjoyed when you can access your winnings easily!
How to Withdraw Funds from BetVisa Account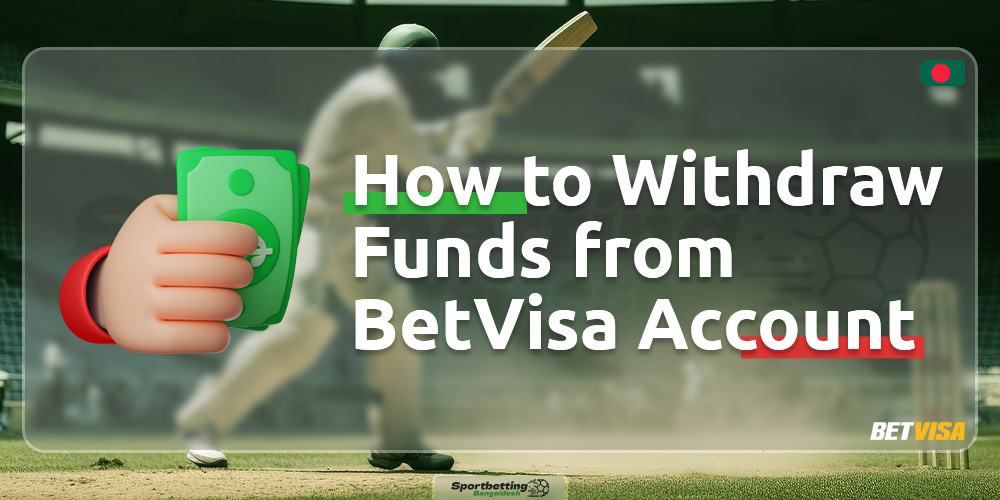 Withdrawing funds from your BetVisa account is a straightforward process that allows you to enjoy the fruits of your betting success. Here's a step-by-step guide on the BetVisa withdrawal process:
Log in to Your Account. Start logging into your BetVisa account using your registered username and password.
Navigate to the Withdrawal Section. Locate the 'Withdraw" section within your account dashboard. It is usually prominently displayed for easy access.
Choose Your Preferred Withdrawal Method. BetVisa offers multiple withdrawal methods to cater to your preferences and convenience. These include BKash, Nagad, and Rocket.
Select the Desired Amount. Input the amount you wish to withdraw from your BetVisa account. Ensure that it falls within the minimum and maximum limits each withdrawal method sets.
Confirm Your Transaction Details. Carefully review all transaction details before proceeding with the withdrawal request. Double-check if any fees or charges apply for using a particular withdrawal method.
Await Processing and Approval. BetVisa's team will begin processing your request depending on the withdrawal method. This may take a short period for approval due to standard security checks in place.
Remember that withdrawal processing time can vary depending on factors such as the withdrawal method chosen and any verification processes that BetVisa may require. While some options provide withdrawals in 24 hours, others might take a few business days to complete.
Minimum and Maximum Withdrawal Amounts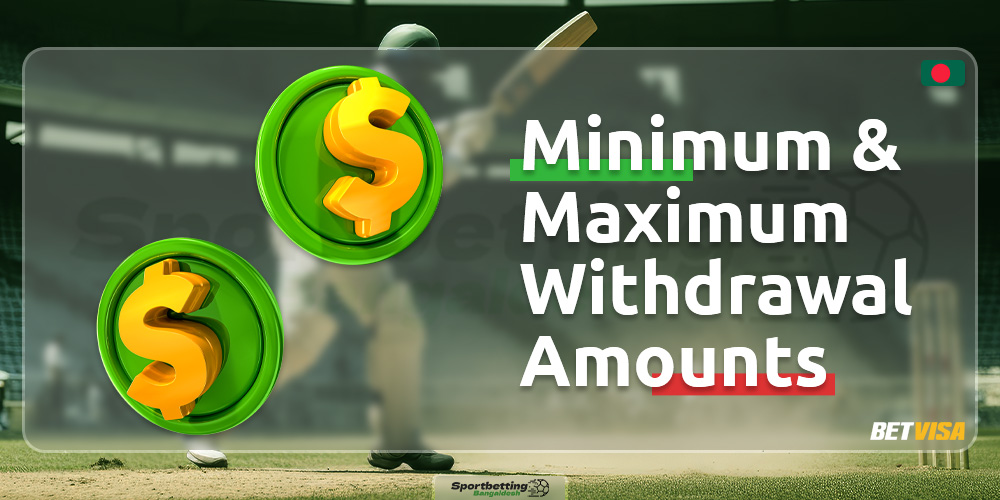 When withdrawing funds from your BetVisa account, knowing the minimum and maximum limits set for each withdrawal is important. These limits ensure you can efficiently manage your funds and plan your cash-outs accordingly. Here's a breakdown of the withdrawal limits:
| Withdrawal Method | Minimum Withdrawal | Maximum Withdrawal | Processing Time |
| --- | --- | --- | --- |
| BKash | 1000 BDT | 30,000 BDT | 1-5 business days |
| Nagad | 1000 BDT | 30,000 BDT | 1-5 business days |
| Rocket | 1000 BDT | 30,000 BDT | 1-5 business days |
As always, responsible gambling is key. Manage your funds wisely, set a budget, and only withdraw what you need. Following these guidelines and understanding the withdrawal limits, you can have a smooth and enjoyable cash-out experience with BetVisa.
FAQ
Is BetVisa a reliable platform for online gambling?

Yes, the platform is considered to be a reliable platform for online gambling. It offers a user-friendly experience and caters specifically to the needs of Bangladeshi players. All transactions.
---
What currencies does BetVisa accept?

The venue accepts Bangladesh Taka as its primary currency. This allows players from Bangladesh to quickly deposit and withdraws funds without the hassle of converting currencies.
---
How can I deposit funds into my account?

Depositing funds is simple. You have a variety of methods to choose from, including BKash, Nagad, AstroPay, Rocket, and USDT (cryptocurrency). Each method has been tailored for convenience and security, so you can make deposits smoothly.
---
Are there any fees for depositing or withdrawing funds on BetVisa?

The gambling website does not charge any fees for deposits or withdrawals. However, checking with your chosen payment method provider is always a good idea, as they may have their charges and policies.
---