Today, we take a look at the relatively broad option of betting with an online smartphone app in Bangladesh. The app is available on both Android and iOS operating systems. They do not differ in any way from each other and give customers the opportunity to place bets, play slots and online casinos, make deposits and withdraw winnings, receive bonuses and so on.
Important aspects of using the Indibet betting app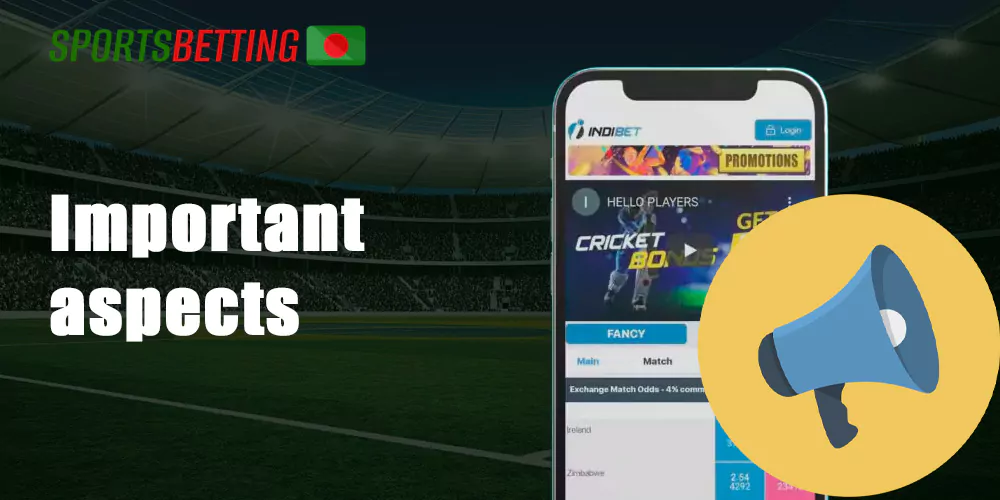 The key benefits and negatives of Indibet's sports betting app must be considered before moving on to a thorough assessment.
| Pros: | Cons: |
| --- | --- |
| Fast feedback from technical support (usually up to 3 hours) | BDT not available in the app |
| Quick changes in betting odds | Not available on the Play Store |
| Great bonus system for newbies (+200% on first deposit) | |
| Support available in English and Bengali | |
| Instant money transfers with no fees | |
| Indibet downloading and registering in 5 minutes | |
Indibet App for Android
The Android app is more popular in Bangladesh than the iOS app. This is due to the fact that there are more people who have Android smartphones. However, the process of downloading the app is complicated because of the official Play Store policy. It is forbidden to promote gambling apps there.
That is why the owners of Android smartphones need to go through the process of downloading the Indibet apk file. However, the installation itself is quite easy.
How to download Indibet for Android
As the download is via an apk file, it can be found on the official website of Indibet Bangladesh, so customers wishing to get gambling and betting app should go to the organisation's website from their smartphone. The next steps are as follows:
Step 1: Find the smartphone icon at the top of the webpage. Click on it;
Step 2: Click on the Indibet apk download button to get the file;
Step 3: Wait for the apk to download to your device.
How to install the Indibet apk
If the additional file has already been downloaded to the smartphone, the customer can begin installing the Indibet application. To do this, do the following:
Step 1: Allow installation of third-party apps in your mobile phone's settings;
Step 2: Find the Indibet apk file in the device's downloads area;
Step 3: Install it by pressing the relevant button;
Step 4: Wait for the installation to complete;
Step 5: Search for the app on your device's desktop.
When the app appears on the desktop, the client will be able to launch it. Now there are just a few steps left to start betting on sports.
Requirements for an Android smartphone
In order for the Indibet apk download and install the app, your smartphone must satisfy certain criteria.
| | |
| --- | --- |
| OS | Android 6.1 and later |
| Free space in memory | 14 Mb |
| RAM | 1 Gb |
| Processor | 1 GHz |
Supported devices
Based on the above, we can conclude that a vast number of smartphones are suitable for the installation of the Indibet app. This is the case – many brands and hundreds of models are suitable for Indibet downloading:
Huawei;
Lenovo;
Meizu;
ASUS;
Samsung;
Xiaomi;
OnePlus, and many others.
Indibet App for iOS
Even though the iOS operating system is less popular in Bangladesh, there are still many users who use iPhones and iPads to bet and play casinos.
The process of downloading the app for Ios is a little easier than for Android. This is because the official App Store does not prohibit the placement and promotion of gambling apps, unlike the Play Store.
How to download Indibet app for iOS
Loading and installation of the app on iOS is a one-step process. Not in two steps like on Android. This makes the procedure a little easier.
Unlike Google, the App Store does not ban gambling apps, so you can download them from the official shop.
Step 1: Go to the official App Store from your device;
Step 2: Search for the Indibet app in the search box;
Step 3: Click on the Indibet app "Download" button;
Step 4: Wait for the app to fully download and install on your device;
Step 5: Find the application on your smartphone's desktop. 
Requirements for iOS
In addition, as with Android, the smartphone must meet certain requirements. For iOS, these are shown in the following table.
| | |
| --- | --- |
| OS | iOS 8.0 and later |
| Free space in memory | 14 Mb |
| RAM | 1 Gb |
| Processor | 1 GHz |
Supported devices
Many iPhone and iPad models are also suitable for use on iOS.
iPhone 6 / 6s;
iPhone 7 / 7Plus and later models;
iPad 2;
iPad mini;
iPad mini 2 and later models.
First bet with the Indibet BD app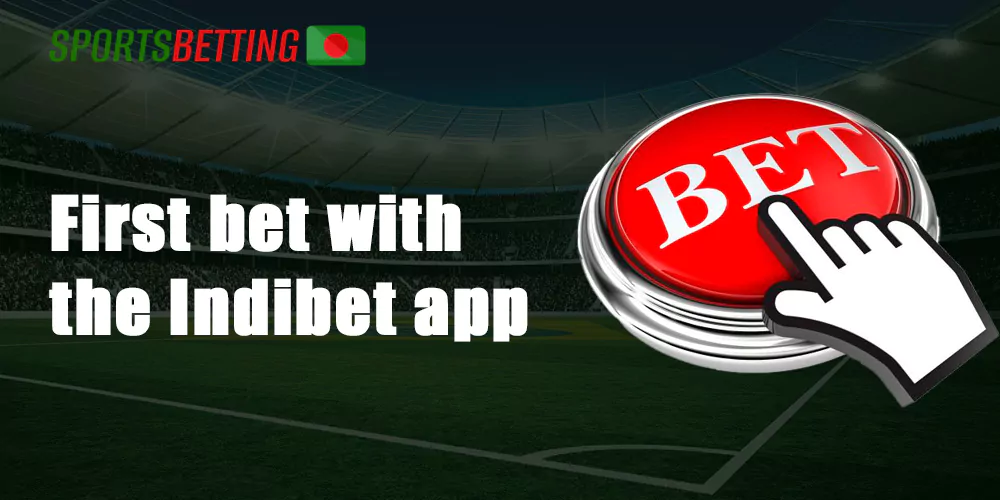 To help you navigate your way around online sports betting, our expert team has put together a comprehensive step-by-step guide for those new to online betting. Once you've read it, you'll have no trouble placing your first bet.
Step 1: Choose the right part of the bookmaker.
You can bet in Cricketbook Indibet or Sportsbook Indibet;
Step 2: Select your betting subsection (Future cricket matches, Live cricket betting, Virtual cricket, Sports betting, Live betting, e-Sports);
Step 3: Select the appropriate sport.
The most popular matches are located on the main page of the Indibet app, but in the tabs mentioned above users will find many different sports to bet on;
Step 4: Choose a match.
This choice depends solely on your desires and preferences;
Step 5: Click on the odds for the team to win the match based on your preference;
Step 6: Enter the bet amount.
Please note that the bookmaker has a limit on the bet amount;
Step 7: Confirm your bet.
When the amount is entered into the appropriate field, you only need to confirm your bet by clicking on the "Bet" button;
Step 8: Wait for the result of the match.
Indibet bonuses for app users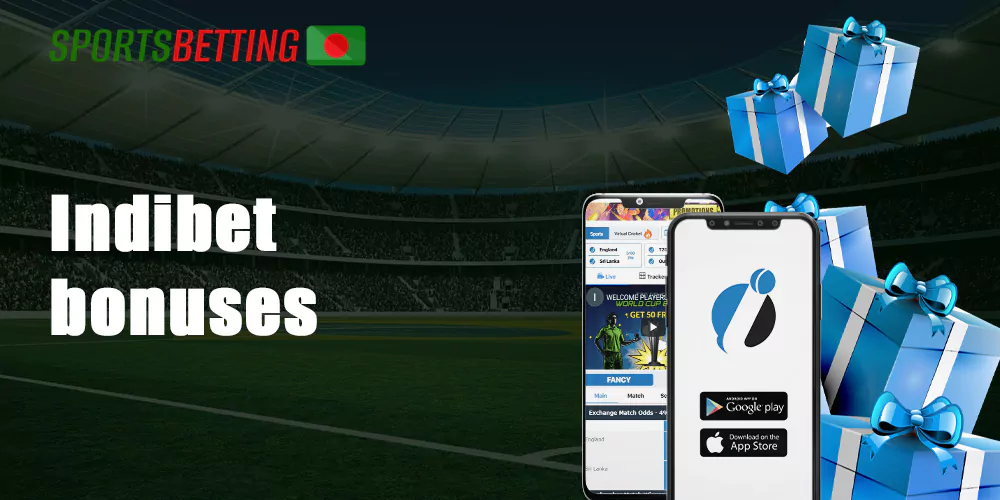 Please note that because the Bangladeshi taka is not available on the Indibet website, we will now discuss the bonus structure in Indian rupees. You can, however, take the same benefits in the same amounts in BDT equivalent.
On the Indibet Bangladesh website, there are two types of betting bonuses now available: Cricket Sign Up Bonus and IPL Deposit Bonus.
Customers who sign up for Cricketbook can receive 100 free betting bonuses. This bonus will be added to your account without the need for a deposit.
The IPL Deposit Bonus is a welcome bonus for new players, offering 100% on Sportsbook and 100% on Casino. The bonus is available on a deposit amount of Rs 100 and up to INR 10,000. It allows you to get a bonus for both betting and online casino.
Payment abilities in the application
An extremely important factor when choosing a sports betting and casino app is payment methods. They should be fast and convenient for Bangladeshis.
Indibet boasts that the online gambling and betting app meets these requirements. All deposit transactions are made instantly using the following methods:
Bank payment options: Bank transfer, Net Banking;
E-Wallets: Skrill, Neteller, AstroPay, UPI and others;
Cryptocurrencies: Bitcoin, Ethereum, Litecoin, Tether on Ethereum and others.
The minimum deposit amount is 100 Indian rupees (or its equivalent in the required currency). Withdrawals are INR 500 or more (or the required equivalent amount in the required currency) and the payment may take a little over 15 minutes.
Indibet Mobile Site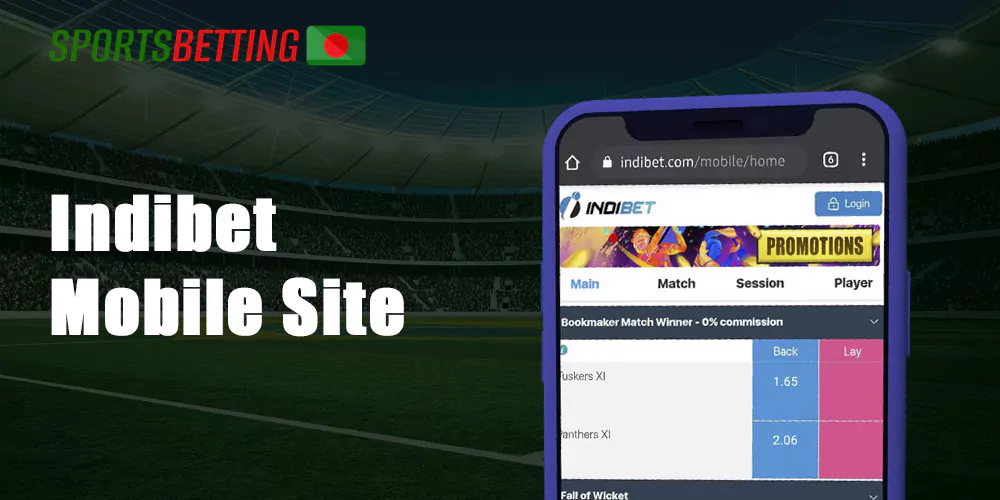 While the official Indibet app has become increasingly popular, you may also bet on the bookmaker's website from your mobile device. It's worth mentioning that this is still a popular strategy.
The consumer has the same options when betting on the mobile version of the Indibet Bangladesh website as when betting on a PC. On a small screen, however, there are some difficulties with navigation.
We've highlighted the main differences between the two approaches in case the client can't decide whether the app or the mobile version of the site is better for sports betting.
| Mobile version of the site | Application for Android and iOS |
| --- | --- |
| No additional software | Need additional software |
| No requirements for the system | There are requirements for the system |
| Doesn't take part in the memory space | Memory required |
| Less convenient and faster | More convenient and faster |
| Slow navigation | Fast navigation (because of the installed file) |
| Rarer changes in odds | Fast odds updates |
| No need to update the app | Need regular updates |
| Sometimes stops working because of maintenance work | There are no pauses for technical works |
Supported Mobile Devices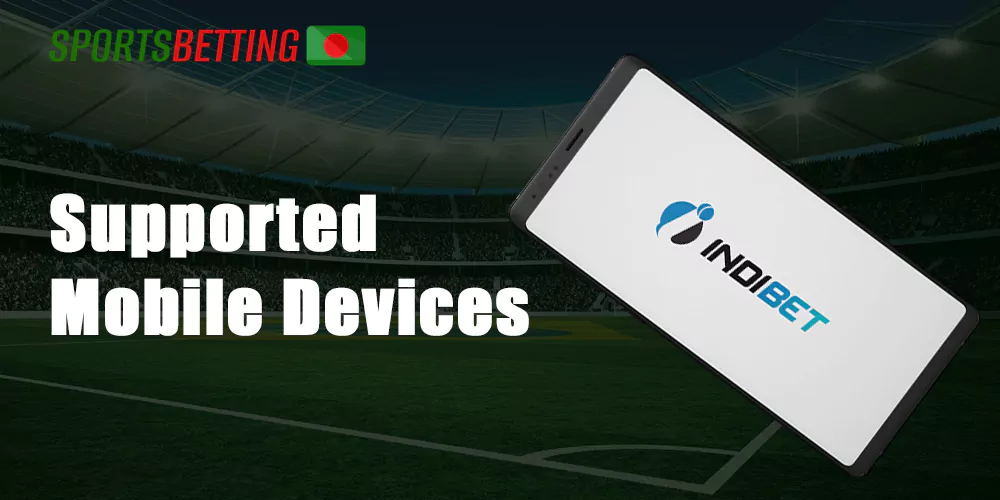 To outline which smartphones are acceptable with the Indibet app for online sports betting and the mobile version of the website, there is numerous variant among up-to-date smartphones.
iOS
Android
iPhone
iPad
Huawei
Samsung
Redmi
OnePlus
iPhone 6 / 6s, iPhone 7 / 7Plus and later models
iPad 2, iPad mini, iPad mini 2 and later models
P30, P40 Pro, P40 lite, Mate S, XS, Y6, Y6s, Y7, Mate 10 Pro, 20 Pro and other models
S6, S7, S8, S8+, A41, A7, A8, Edge+, Note, Mini and other models
Redmi 8, Redmi 9, Note 10, 10 Pro, Note 9S, Mi 10 Lite, 10 Pro and other models
7T, 6T, 5T, 3T, 8 Pro, 8, 7T Pro
The table does not list all of the devices that MegaPari's app and mobile version of the bookmaker's website are supported with. Customers can use these strategies to gamble and bet on sports with hundreds of smartphones.
FAQ
Is the BDT availaible in the Indibet app?

Bangladeshi Taka is not available in the Indibet app, but you can get the bonus in Indian currency equivalent or EUR, USD, USDT.
---
Is it legal to bet with the Indibet app in Bangladesh?

Yes, it is legal and safe. The bookmaker is licensed by the E-Gambling Commission of Curaçao and also has a registration number.
---
May I use 2 or more accounts?

No, this is prohibited by Indibet Bangladesh's rules. If the organisation detects activity from more than one device, internet protocol or any form of suspicious action, all accounts will be instantly blocked.
---
Is the verification mandatory?

Verification of your account is necessary to withdraw funds – without it, you won't be able to get them back. However, betting without verification is allowed.
---
Do I need to register separately in the Indibet BD app?

No, you can use an account that has been registered using the official online website.
---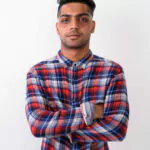 Author: Mohammed Rahman
Last update :
---
Mohammed Rahman has been interested in sports since childhood and dreamed of playing in his favorite cricket team, but fate led him to write about sports betting, which he did not regret. As a schoolboy, he liked to write about sports and learn a lot of new things, so he and his friend organized a school newspaper where they "jokingly" reviewed local matches. Together with his father and his friends, he often attended IPL matches where he learned even more about sports and the industry in general.