Crickex Deposit Methods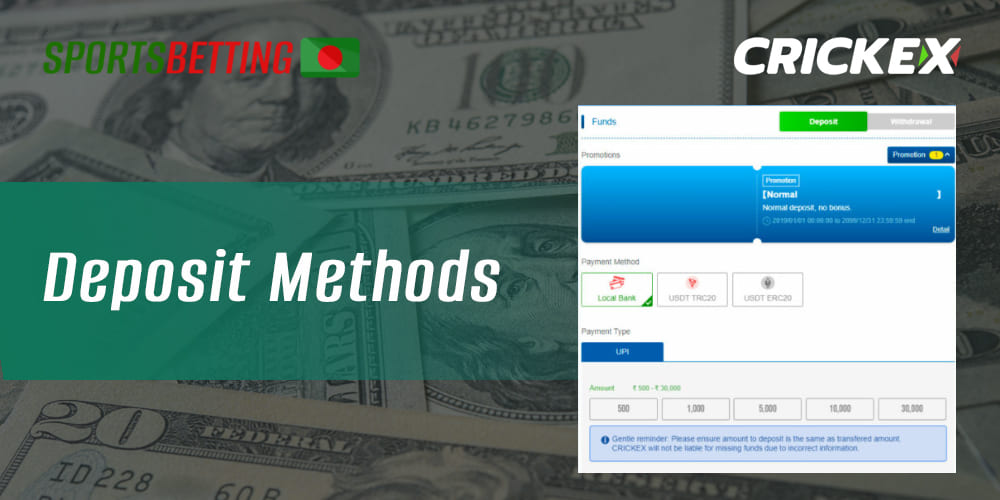 Among the Crickex deposit methods available for Bangladeshi players, the company offers several popular, and most importantly fast and secure payment systems. These include e-wallets, mobile payment systems, and even cryptocurrency. All available payment methods offer fast and smooth transactions with transparent commission policies. Moreover, they are available for use both on the bookmaker's official website and in the mobile Crickex deposit app. Importantly, all transactions are made on the official pages of the payment systems, indicating the fairness and reliability of the Crickex platform.
How to Deposit Money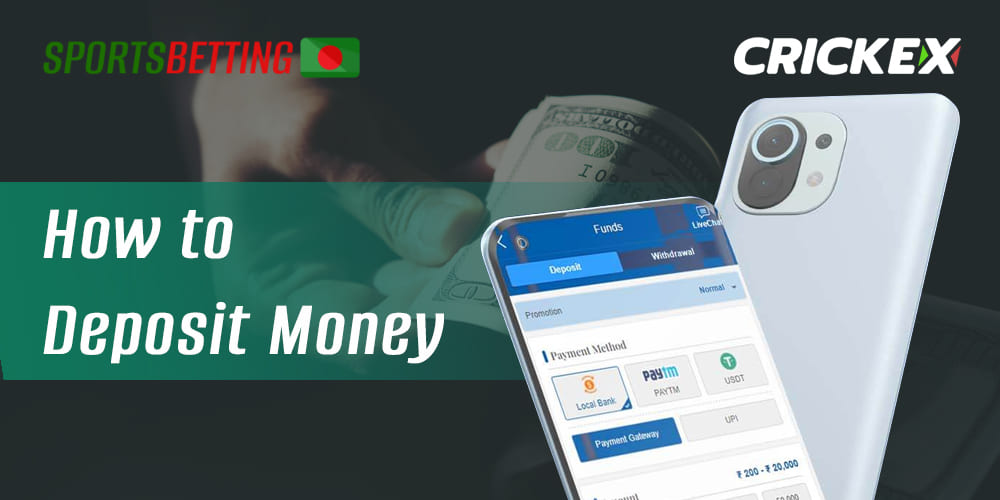 Each registered user of Crickex from Bangladesh will be able to use all available services of the company without any limitation. However, to do that you will need to have some money on your game account. To deposit money to your game account you need to follow some simple steps:
Step 1: Open the official Crickex website and log into your account with your username and password;
Step 2: Click on the green "Deposit" button in the top menu of the home page, or go to "My Wallet" in the profile menu;
Step 3: From offered methods of crediting funds to the account, choose the most suitable for you;
Step 4: Specify the deposit amount in a special window, according to set limits, and press the "Deposit" button, after that, you will be redirected to the official page of the payment system;
Step 5: Specify necessary bank requisites according to the chosen payment method and confirm the transaction.
Once all the above steps have been completed, the funds will be credited to your balance within minutes and you will be able to use them to place sports bets, and in the casino section.
Ways to Crickex deposit account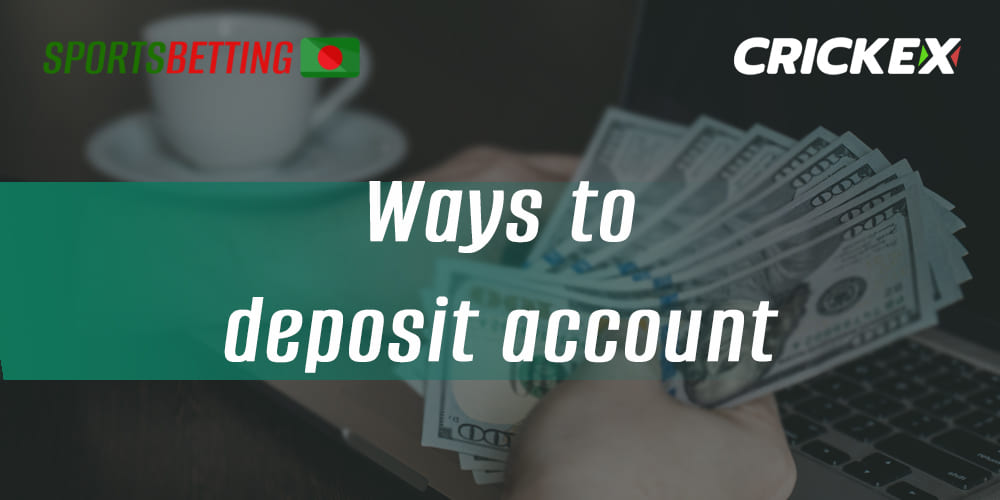 We invite you to take a closer look at all the available payment methods so that it will be easier for you to make your choice:
bKash
bKash was founded in 2011 to provide Bangladeshis with a wide range of services to empower their financial transactions. Today, it is a robust platform that serves nearly 65 million people with electronic payments. The bKash system is used by almost every Bangladeshi as the company provides fast, easy, and secure digital transactions. Of course, Crickex couldn't do without bKash in its range of payment methods, so every platform user can make a deposit using it. What's more, bKash has its own mobile app, which will allow transactions to be made via mobile devices from anywhere in Bangladesh.
Nagad
Nagad is a Bangladeshi digital financial service. It is operated by the Bangladesh Post Office, which is part of the Ministry of Posts and Telecommunications. Nagad users can make electronic transactions to transfer money, cash out money, make payments for any services, donations, and so on. Also, using this digital financial service, Crickex customers can make transactions to credit their gaming accounts. There are no fees to be paid for using this payment method.
Rocket
Rocket is Bangladesh's mobile banking system that allows you to make real-time transactions from anywhere in Bangladesh. Rocket allows you to perform banking transactions without a bank branch using your handheld device. Every Rocket user will be able to avail of financial services such as cash withdrawals, merchant payments, utility payments, payroll payments, overseas money transfers, government allowance payments, ATM withdrawals using mobile devices, and deposits on Crickex without any fees. Rocket is a convenient and secure way to deposit with Crickex, as well as safer, faster, and fraud-proof.
UPay
UPay is a digital financial services brand that has been licensed by Bangladesh Bank. The company started its journey in early 2021, offering a wide range of mobile financial services to Bangladeshis. Today, it is a sought-after brand with products and services used by millions of Bangladeshis. The services offered by UPay include mobile transactions, utility bill payments, in-store and e-commerce payments, domestic money transfers, payroll payments, and other services. At the same time, UPay guarantees full security to its users due to the existing high-security methods of financial data protection. By choosing this payment method to deposit Crickex you can be assured of a fast and most importantly secure transaction.
USDT TRC20
If you prefer to make transactions in cryptocurrency, you can use one of the cryptocurrency methods – Tether. Crickex provides this option to its users both on the official website and in the Crickex mobile app. While this method may be more convenient for you in terms of depositing, it still takes more time to process the transaction. Depositing funds via USDT TRC20 may take up to 3 hours while other payment methods like bKash, Nagad, and Rocket take up to 3 hours.
Crickex deposit bonus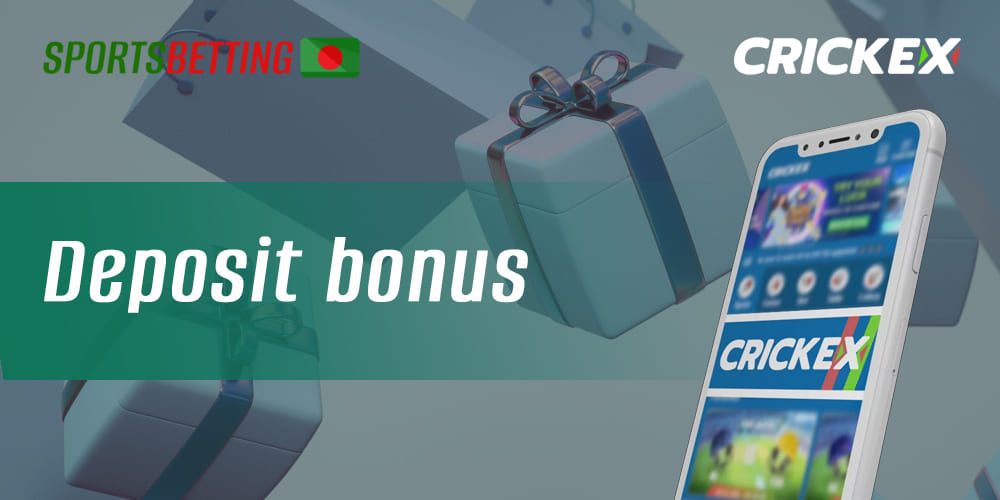 As Crickex is trying to keep its users happy, it offers an attractive bonus program. As a Crickex deposit bonus, the company credits an additional 2% bonus on the amount deposited using bKash, Nagad, Rocket, and UPay.
In addition to this gift, the bookmaker pleases its users with other generous offers. For example, by playing on the bookmaker's official website or app, Crickex Bangladesh users can take part in a draw for cash prizes and an iPhone 14 Pro, receive daily discounts for placing sports and casino bets, get back some of the money lost in bets placed, receive an individual birthday gift, and earn real money through Refer Bonus, where you can receive BDT 500 for each friend registered on the Crickex platform using your referral code.
Minimum and Maximum Deposit Limits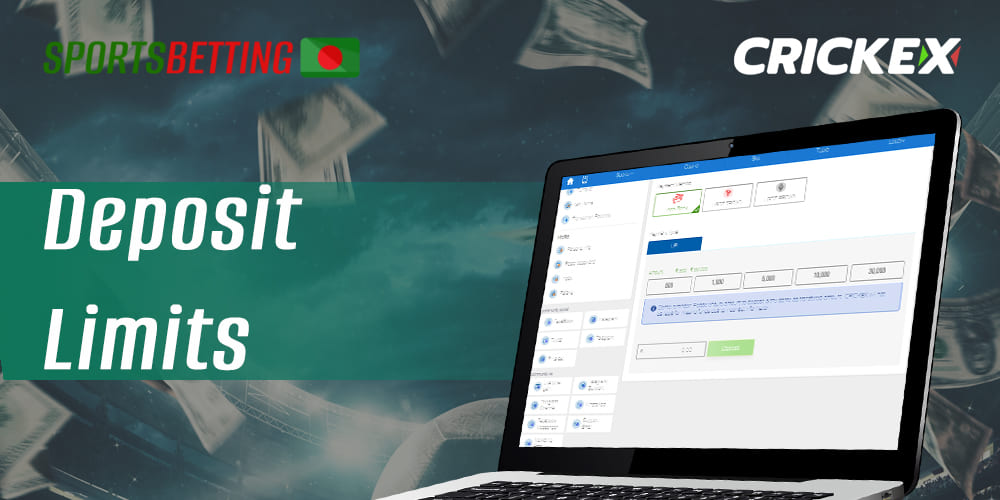 BDT is the main account currency available for use by Bangladeshi players on the Crickex platform. For the convenience of depositing funds into your account, the bookmaker offers particularly popular payment systems and is in demand in Bangladesh. You can read more about them and the Crickex deposit limit for each of them in the table below:
| Deposit Methods | Minimum deposit amount, BDT | Maximum deposit amount, BDT | Cricket deposit time | Fees |
| --- | --- | --- | --- | --- |
| bKash | 200 | 25,000 | Instant | Free |
| Nagad | 200 | 25,000 | Instant | Free |
| Rocket | 200 | 25,000 | Instant | Free |
| UPay | 200 | 10,000 | Instant | Free |
| USDT TRC20 | 1,000 | 29,999 | Up to 3 hours | Free |
Crickex Withdrawals Methods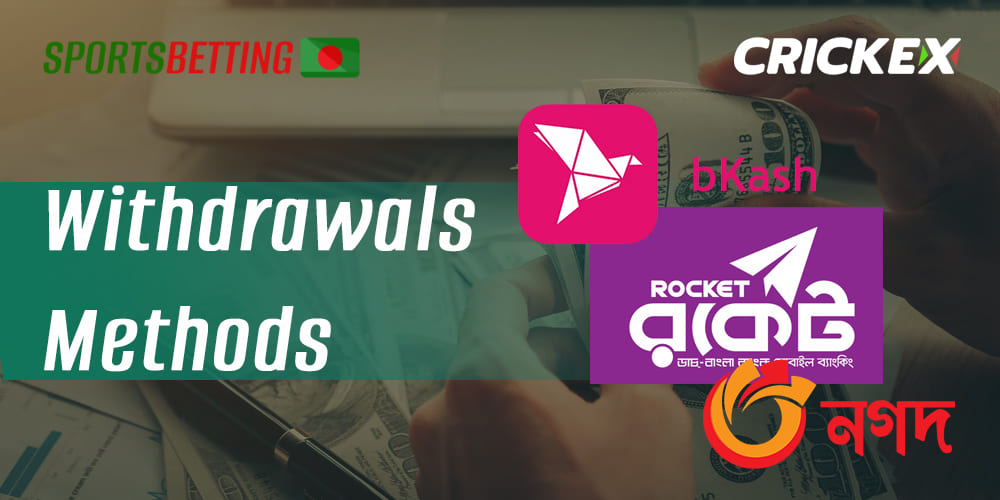 Once you have your first winnings you can cash them out or transfer them to your e-wallet. Among the Crickex withdrawal payment methods there are also several convenient and fast payment methods available for Bangladeshi users. These can be used both on the official website and in the Crickex withdraw app. These include:
Although Crickex withdraw is not available in cryptocurrency, the available payment methods are sufficient to cash out your winnings. Each of the payment systems available for withdrawal is attractive for its low limits, as well as fast transactions, which in turn allows you to receive your money on the day of Crickex withdrawal issue.
How to Withdraw Money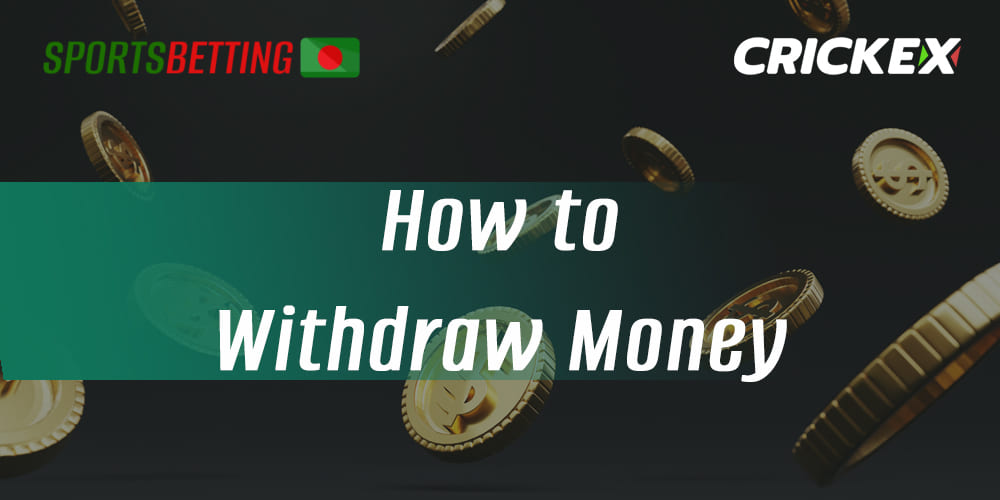 If you have at least BDT 500 in your account you can Crickex withdraw online. However, only the users who have verified their account, confirmed phone number, and email address can do it.
To Crickex withdraw account, follow the steps in the instruction below:
Step 1: Visit the official Crickex website in your computer browser, or use the mobile app;
Step 2: Log in to your account with your username and password;
Step 3: Go to your profile menu and in the "My Wallet" section, open the Withdrawal section;
Step 4: Choose a suitable payment method and specify the withdrawal amount in the special window, after that, you will be redirected to the official page of the payment system;
Step 5: Fill in the fields required for payment and confirm your withdrawal request.
Unlike a deposit, Crickex withdraw time will take a little longer. Usually processing time ranges from 1 to 12 hours. Once your application is approved, you will receive the money for the details you provided and can use it as you wish.
Ways to Withdraw Money from an account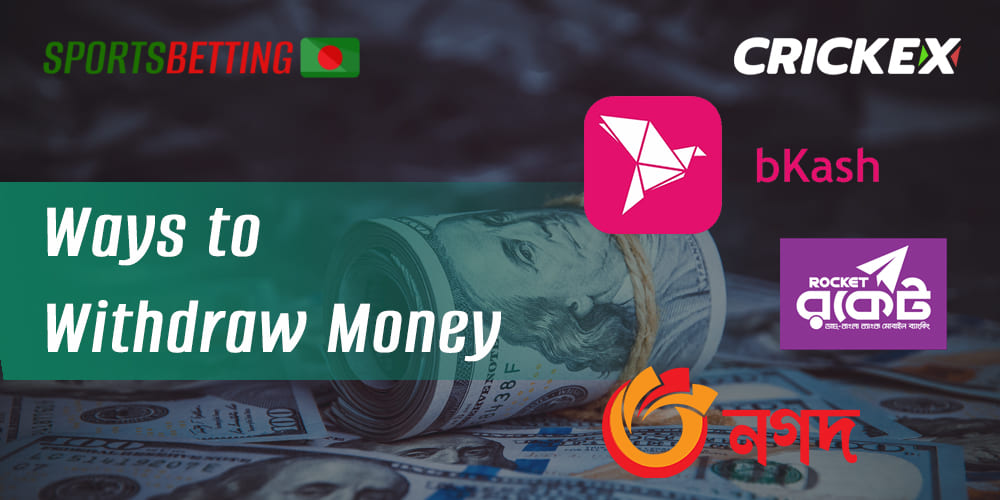 The withdrawal process, as you may have noticed, is easy and takes only a few minutes. To do this, the company provides the fastest and most convenient payment methods. We suggest that you read Crickex withdraw review in more detail:
bKash
bKash is one of the most popular e-payment methods in Bangladesh. Using bKash you can make withdrawal transactions from your Crickex account. Meanwhile, this can also be done in the dedicated bKash mobile app, which will allow you to withdraw funds at any time and anywhere in Bangladesh. The best part is that by using this payment method, the bookmaker does not charge any additional fees and the transaction time is as quick as possible. You will get your money within a few minutes and can use it as you wish.
Nagad
Another way of withdrawing funds is through Nagad's digital financial service. Nagad users will be able to make any financial transactions quickly and easily. For example, send money to other users, cash out money, top up mobile phones, buy products and services, and withdraw their winnings from the official Crickex website. The bookmaker also doesn't charge any withdrawal fees using this e-wallet. All you need to do is go to the official page of the payment system, specify the withdrawal amount, and fill in the fields with relevant banking information. In a few minutes, your winnings in Crickex will be cashed.
Rocket
Do you prefer to make financial transactions with your mobile device? Then you should consider Rocket as a payment method. Rocket is a quality mobile banking system. Wherever you are, you can withdraw money from your Crickex account using your mobile smartphone. Rocket prioritizes registration with proper KYC actions and is also operated by Bangladesh Bank. That's why this payment method is completely safe and you can legally withdraw funds from your Crickex account.
Minimum and Maximum Withdraw Limits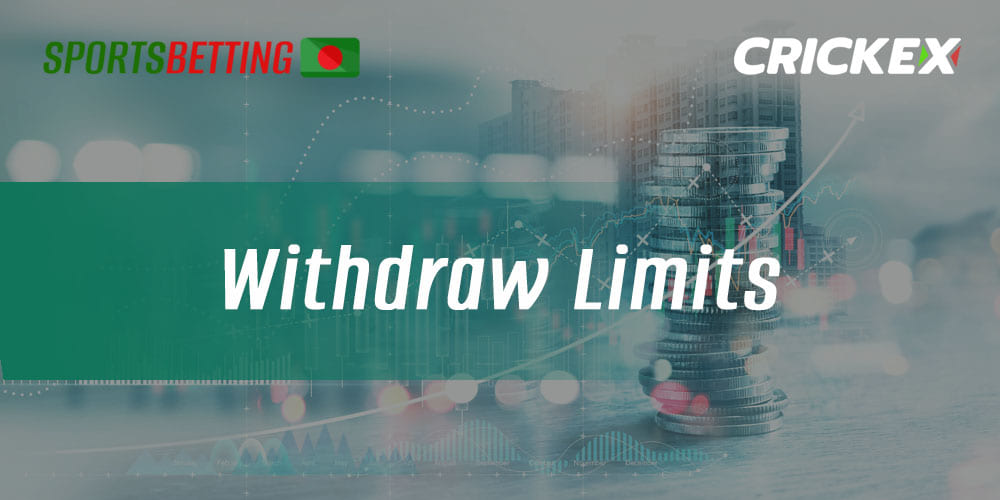 As Crickex is licensed and operates legally in Bangladesh, they only work with trusted and secure payment systems. The bookmaker provides its Bangladeshi customers with several legal and convenient methods for withdrawing funds to BDT, including bank transfers as well as electronic wallets. You can read more details about Crickex withdrawal limit for each payment method, as well as request processing time in the table below:
| Withdrawal Methods | Minimum Crickex withdraw amount, BDT | Maximum withdraw amount, BDT | Processing time | Crickex withdraw charges |
| --- | --- | --- | --- | --- |
| bKash | 500 | 50,000 | 15 minutes – 1 hour | Free |
| Nagad | 500 | 50,000 | 15 minutes – 1 hour | Free |
| Rocket | 500 | 50,000 | 15 minutes – 1 hour | Free |
FAQ
Can I Crickex withdraw bet via VISA and Mastercard debit cards?

At the moment bKash, Nagad, Rocket, USDT TRC20, and UPay are available for deposit and withdrawal.
---
Is the Crickex deposit withdrawal time the same on the official website and mobile app?

Yes. No matter which platform you use, desktop or mobile, the deposit and withdrawal times are the same.
---
Do I have to pass the verification procedure to withdraw funds from my account?

Yes, verification is compulsory. So you confirm that the funds in your account belong to you.
---
How many times can I deposit into the Crickex account during the day?

In Crickex there is no limit on the number of deposits per day.
---
Can I use my e-wallet to withdraw funds from my friend's account?

No. Every Crickex user is obliged to make financial transactions only to e-wallets belonging to him.
---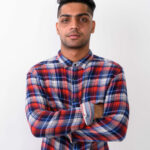 Author: Mohammed Rahman
Last update :
Author's Opinion
---
Crickex does not restrict its Bangladeshi users in choosing payment methods for deposits and withdrawals. Among the payment methods available you will find bKash, Nagad, Rocket, and UPay. You will also have the option to deposit via cryptocurrency, which in turn is one of the main advantages of the company. Each of the presented payment methods is quite popular in Bangladesh. On top of that, they all provide the fastest possible transactions. Importantly, Crickex doesn't charge any deposit or withdrawal fees. Choose your preferred method of financial service with Crickex!