How to Register on PureWin
To take advantage of the PureWin sign-up bonus and play for real money, you must first create an account. The registration procedure on the platform looks as follows:
Step 1:
Navigate to the PureWin website and click the "Sign up" button in the upper right corner.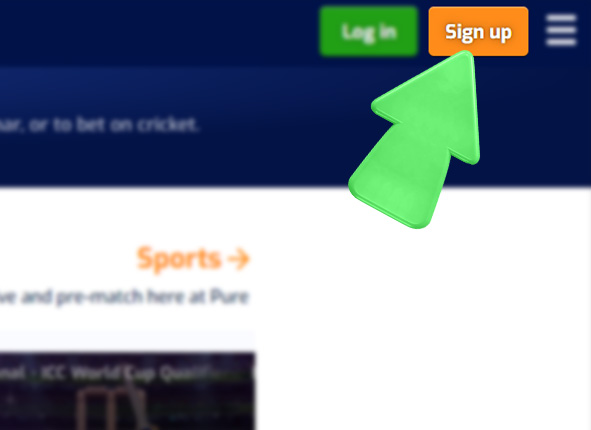 Step 2:
Provide your email address, area code, and phone number.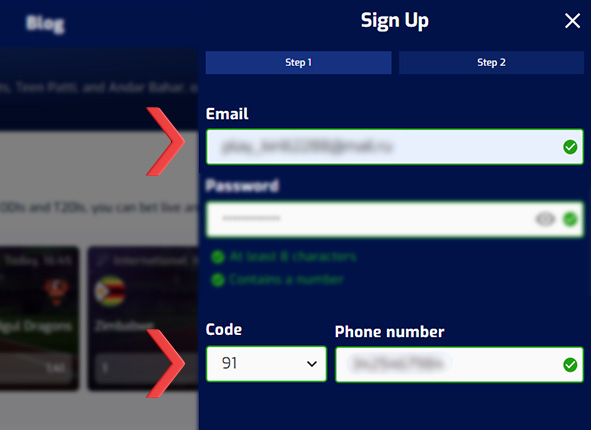 Step 3:
Create a unique password.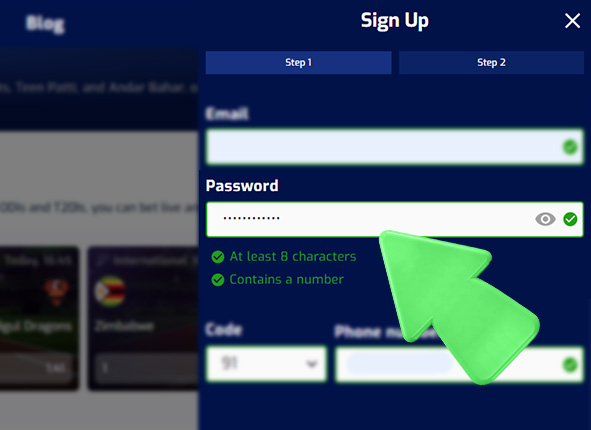 Step 4:
After completing the most basic information, click "Continue" to proceed to the second phase of the registration procedure.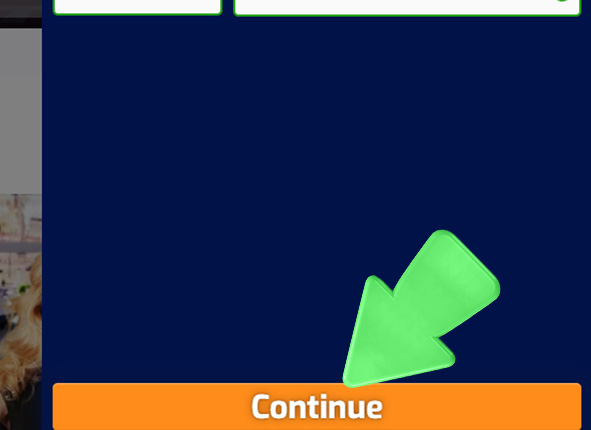 Step 5:
You will now be prompted to input more personal information, such as your country of residence, home address, and other information required to validate your account.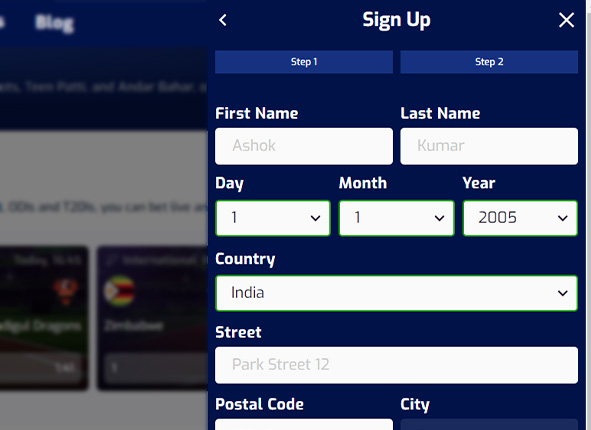 Step 6:
Finally, read the Terms and Conditions and, if you agree, click the "I agree to all Terms and Conditions" box. You may also choose whether or not you wish to receive email alerts for your account.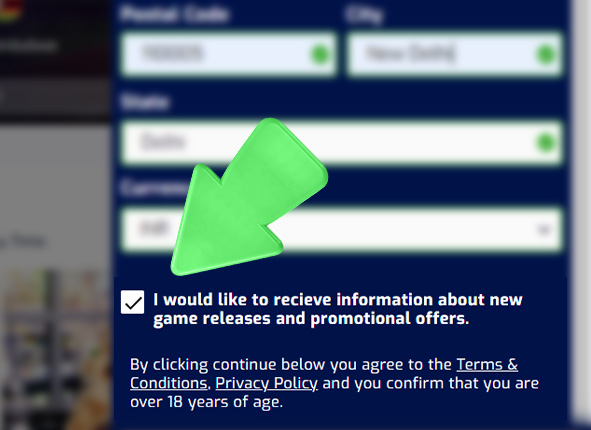 Step 7:
Click the "Continue" button once again, and your account will be ready!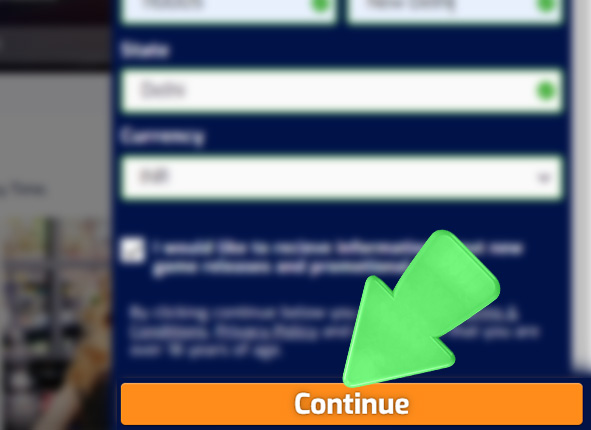 To successfully register your account with PureWin Bangladesh, fulfill all the necessary signup requirements. The registration process involves providing specific personal information during two key steps. To simplify the process for you, we have outlined the requirements below:
Suitable location: The first and foremost requirement is that PureWin accepts players only from certain countries. These countries include Maldives, Bangladesh, Bhutan, India, South Africa, Myanmar, Nepal, Mauritius, Singapore, and New Zealand. The platform restricts access to players from other locations because it requires area code numbers from these countries. Therefore, the gambling operator cannot confirm your phone number if you reside outside this designated location pool.
Confirmed email address: Once you have confirmed that you are located in one of the accepted countries, you can proceed to the next registration step. It is essential to possess a valid email address for this step. Providing a valid email address is crucial as it allows the bookie to notify you about important updates and verify your identity.
Matching area code and phone number: In the final step, you must provide the gaming portal with an area code corresponding to your state of residence and your actual phone number. PureWin uses this information to contact you via SMS and verify your profile. It is important to ensure that the area code and phone number you provide accurately reflect your current location and contact details.
By carefully following these steps and meeting the requirements, you can successfully register a new account on PureWin and enjoy the exciting world of online gambling and sports betting.
How to Register Through the Mobile App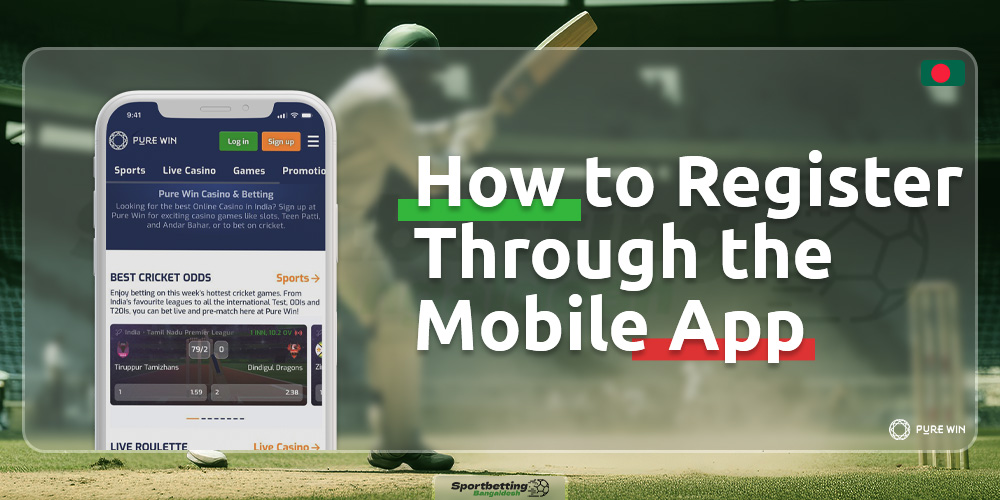 Registering on PureWin has never been easier, thanks to the convenience of their mobile app. With the bookie's mobile application, you can access all the exciting features and benefits of the platform right at your fingertips. Here's a step-by-step guide on how to register through the PureWin Mobile App and start your thrilling online gaming journey:
Begin by downloading the PureWin mobile app from the official website. The application is available for iOS and Android devices, ensuring compatibility with a wide range of smartphones and tablets. Once the download is complete, follow the on-screen instructions to install the app on your device.
After successfully installing the 2023 version of the PureWin mobile app, locate the app icon on your device's home screen or application drawer. Tap on the icon to launch the program and open up a world of thrilling gaming opportunities.
Upon launching the app, you will be presented with the option to either log in to an existing account or create a new one. Since we're focusing on registration, select the "Create Account" or "Sign Up" option to proceed.
To register successfully, you must provide personal information such as your full name, email address, date of birth, preferred username, and a strong password. Ensure that you provide accurate information, which will be used for account verification and future communication.
After providing the necessary personal information, you may be required to verify your account. This can usually be done by clicking on a verification link sent to the email address you provided during registration. Follow the instructions in the email to complete the verification process and activate your PureWin account.
Once your account is verified, you can use your registered username and password to log in to the PureWin mobile app. Take some time to explore the app's user-friendly interface, browse the wide range of casino games and sports betting options available, and familiarize yourself with the features and promotions offered.
By following these simple steps, you can register through the PureWin mobile app and unlock a world of exciting gaming experiences. Enjoy the convenience of accessing the bookie anytime, anywhere, and make the most of the thrilling entertainment and potential winnings that await you!
Account Verification on PureWin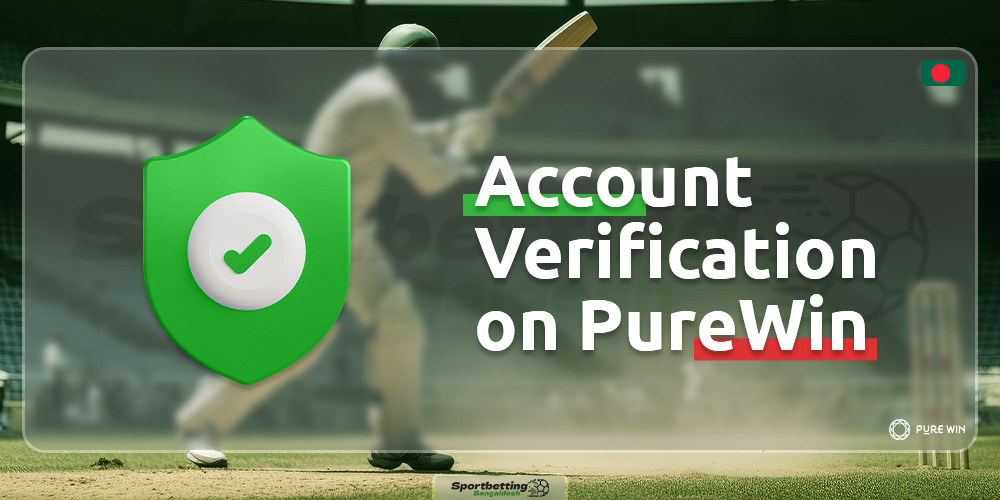 To ensure the utmost safety and security for all users, PureWin requires the verification of your account before you can fully enjoy our services. During registration, you will be prompted to verify your user profile through a simple and essential procedure.
Upon registration, the gambling operator will request your phone number for communication and safety purposes. PureWin will send you a verification code via SMS. This code confirms your phone number and is a key to accessing the full range of the bookie's bonuses. The code will be a unique combination of numbers you must enter in the designated field to confirm your identity. This simple procedure takes only a few moments but is critical in maintaining a safe and trustworthy gaming environment.
Once your identity is confirmed, a world of exciting possibilities awaits you! Whether you are eager to explore a wide range of thrilling casino games or place bets on your favorite sports, you can now indulge in the full array of PureWin's offerings with confidence and peace of mind.
Registration Bonus on PureWin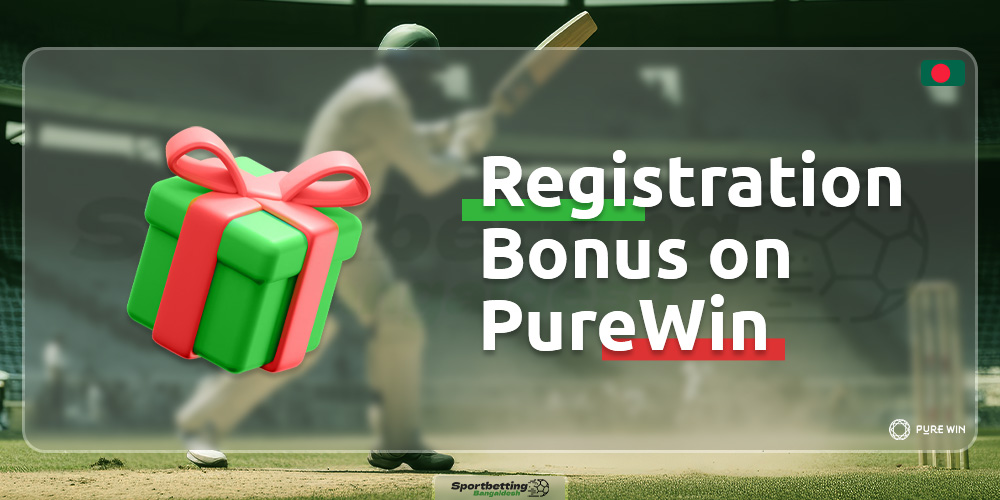 PureWin welcomes new players with great bonuses and promos upon registration. These offers might improve your gaming experience and give you an advantage on the platform!
Sports Welcome Offer
Prepare to be rewarded beyond your wildest imagination with the Sports Sign Up Bangladesh Bonus! With your initial deposit, you will receive several free sports bets up to ৳13,000, along with a ৳1,300 extra wager for the live casino section.
Upon your second deposit, you may get a 50% bonus of up to ৳4,000. And that's not all! The third deposit will grant you a generous 50% promotion, boosting your funds to an impressive ৳40,000!
Claiming the bonus is a breeze. Simply follow these steps:
Click the PureWin login button to access your account or register a new one.
Decide on the amount you wish to deposit.
Select the Sports Bonus Offer when making your deposit.
Choose your preferred payment method.
Specify the amount and complete the transaction.
Voila! Your Sports PureWin Offer will be instantly applied to your account.
Casino Welcome Offer
Upon your first top-up, you will be rewarded with a 100% deposit bonus of up to ৳40,000, along with a ৳2,000 free bet in the live casino and ৳665 extra bets in sports! Make your second deposit and receive an extra 50% bonus of up to ৳40,000. Your third top-up will also be matched with a 50% deal, bringing the total potential promo amount to a staggering ৳40,000!
The wagering requirements for the Casino Bonus are a mere 35x. Keep in mind that the maximum stake allowed with this promo cash is ৳700. To be eligible for the promotion, the minimum deposit amount is also ৳700.
Claiming the bonus is a piece of cake! Simply follow these steps:
Create an account on the site.
Visit the Cashier section (marked as Payment) and make your first deposit.
You will have the option to choose between the two Welcome Deals. Select the Casino Bonus.
Choose your preferred banking method.
Make a minimum deposit of ৳700. Your casino deal will be instantly applied to your account.
Now, take advantage of the promotional cash and enjoy playing slots!
FAQ
Can I register on PureWin if I am under 18 years old?

No, PureWin strictly adheres to the legal age restrictions for online gambling and requires users to be at least 18 years old to register and play on the platform.
---
Is it safe to provide my personal information during the registration process?

Yes, PureWin BD employs advanced security measures to protect the personal information of its users. The platform uses encryption technology to safeguard data transmission and has strict privacy policies in place.
---
Can I register on PureWin from any country?

PureWin operates in accordance with the legal regulations of different jurisdictions. Therefore, there may be certain countries or regions where access to the site is restricted. It is advisable to check the platform's terms and conditions or contact customer support to confirm the availability in your location.
---
Can I change my registered details on PureWin after completing the registration process?

It is essential to provide accurate information during the registration process. However, suppose you need to update any details afterward, such as your address or contact information. In that case, you can usually do so by accessing your account settings or contacting PureWin's customer support for assistance.
---
What should I do if I encounter any issues during the registration process?

If you face any difficulties or have questions during the registration process, you can contact PureWin's customer support. They can assist you and provide guidance through various channels, such as email, live chat, or phone support.
---